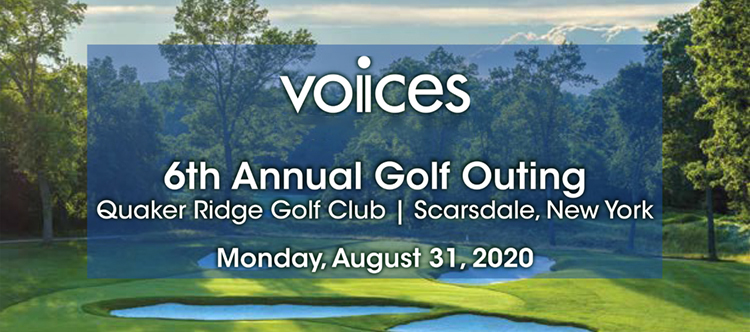 VOICES 6th Annual Golf Outing
Quaker Ridge Golf Club
146 Griffen Ave, Scarsdale, NY
We're looking forward to a fantastic day at the historic Quaker Ridge Golf Club
Including remarks from world famous golf architect Gil Hanse
7:00 AM to 1:00PM
Drive-in Check-in per Tee Time
7:00 AM to 10:00AM
Practice Range Open
7:00 AM to 9:30AM
Putting, Chipping Range Open
11:15 AM to 2:00 PM
Lunch On Course at the 2nd and 15th holes and at the club house at the 10th tee patio
Reception after Completing the Course
Drinks and Light Refreshments as You Leave
Sponsorship Opportunities
For more information, contact Susan Serven
---

From 9/11 to today, helping families and communities heal after tragedy
VOICES assists communities in preparing for and recovering from tragedy, and provides long-term support and resources that promote mental health care and wellness, for victims' families, responders and survivors.
All proceeds will benefit VOICES programs including one-on-one consultation, support groups, webinars, annual conferences, training and resources that promote community resilience.
In response to the pandemic outbreak, VOICES Coronavirus Response Program is providing support and guidance for families and communities, including COVID-19 Tip Sheets, community support groups, and webinars led by subject matter experts.
This coming fall, VOICES will announce a new initiative in honor of late Chairman Kurt Wolfgruber that will advance mental health studies, research and resources to promote healing and community resilience.
Founded in the aftermath of 9/11, VOICES leverages its nearly 19 years of experience to share lessons learned and support communities impacted by tragedy, in the United States and abroad.
SAVE THE DATE!!
Monday, June 14, 2021 for VOICES 7th Annual Golf Outing at Quaker Ridge Golf Club!