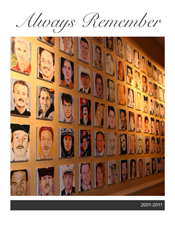 Voices of September 11th has created a Commemorative Book, "Always Remember" to honor the almost 3,000 lives lost on 9/11 and to tell the story of how family members, survivors, rescue workers, corporations, political leaders, non-profits and volunteers have worked together over the last ten years. The book tells the story of family members who have gathered to mourn, to commemorate, to learn and to advocate. It tells the story of people who stepped forward to offer to help — from the rescue workers who toiled for months at the site to the "Smile Retrievers" who came to provide the loving support that only "Man's Best Friend" can give.
Receive the Always Remember Commemorative Book as a thank you gift for a donation of $30 or more
The proceeds from the sale of the Commemorative Book will go to the 9/11 Living Memorial project, which commemorates the lives of those lost on 9/11 and tells the stories of the survivors and rescue workers. The content in the Living Memorial will be a key component of the 9/11 Museum.
- Paperback: 120 pages
- Publisher: InkLink (May 2012)
- Product Dimensions: 9 x 12 inches
---
Tribute Samples
---
Full Page Tribute

 

Half Page Tribute

 

Quarter Page Tribute

 
---
Page Samples
---
Survivor Stories

 

Thank You

 

Paint by Numbers

 

Mail Art