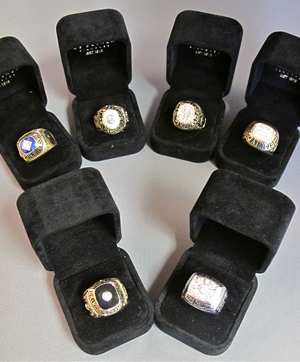 A few nights ago, the New York Rangers and the Los Angeles Kings faced off for the first game of the 2014 Stanley Cup.  At VOICES, we feel a special connection to the two teams in the finals this year. We are excited for the Rangers, our hometown team, to be in the finals for the first time since they won in 1994. We are also excited for the Kings because of our connection to Garnet "Ace" Bailey. Ace Bailey was the Kings Director of Pro Scouting and a passenger on United Airlines Flight 175 on 9/11.
Ace played eleven seasons with the National Hockey League. While playing with the Boston Bruins, he was a member of the 1970 and 1972 Stanley Cup championship teams. Ace also played with the Detroit Red Wings, the St. Louis Blues, the Washington Capitals and the Edmonton Oilers. Following his career as a player, Ace moved first to coaching and then to scouting.
Die-hard Rangers fan and former Project Manager for VOICES, Debbie Westfal, worked with Ace's wife and sister-in-law to create his Living Memorial Tribute. "He had such a friendly face. I knew I would have liked him.
Debbie was amazed when his wife took out six Stanley Cup rings. Katherine told Debbie that Ace would keep the rings in the kitchen drawer. Katherine also told Debbie that there was a seventh ring. Ace was wearing it when he got on the plane in Boston on 9/11. During his time as both a player and a scout, Ace earned seven Stanley Cup Rings.
The Stanley Cup ring is something every NHL player covets. It is a constant reminder that they were a part of an NHL Stanley Cup championship team. Whether the Rangers or the Kings win the cup, the memory of Ace will always be in our hearts.