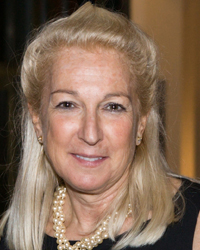 Stephanie Landau joined VOICES in 2007.  She is responsible for planning annual events, including the annual Always Remember Gala, the 9/10 Information Forum and Commemorative Luncheon, as well as interfaith services and special events.
Stephanie is also the project manager for our work with the World Trade Center Health Program to connect responders and survivors with medical and mental health services that are available for those who qualify. She works closely with our partner in this project, the Mental Health Association of New York City.
As project manager for the 9/11 Living Memorial Project, Stephanie scheduled and conducted hundreds of workshops in communities throughout the tri-state area and Washington, D.C. Her team met with over 1,600 families to create tributes to their loved ones in the 9/11 Living Memorial Project.
Her responsibilities also include the management of the high school and college Internship Programs and the Volunteer Program.
Stephanie earned a Master Degree in City Planning from the University of Pennsylvania. Prior to joining VOICES, Stephanie spent several years working in the field on real estate investment. After moving to Ridgefield, CT., she worked for several years at Ridgefield High School as class advisor and student activities coordinator.