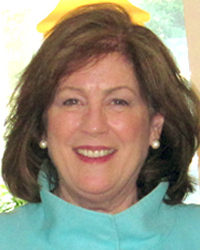 Ms. Fetchet is the driving force behind VOICES, an organization she co-founded in 2001 following the death of her 24 year old son Brad at the World Trade Center. Her unique background as a mother of a victim, along with 20 years of expertise as a clinical social worker, influenced VOICES innovative approach to creating a new paradigm in providing long-term support services. Using social work practices, she guided the development of programs that provide continuity of care and promote resiliency in the lives of victims' families and survivors. Today, Ms. Fetchet is dedicated to establishing VOICES Center of Excellence for Community Resilience to help communities heal after other acts of mass violence or natural disasters.
In the aftermath of 9/11, Ms. Fetchet recognized the importance of providing information and a wide range of programs for all those impacted by 9/11. As a family member, she was committed to helping families through the emotional, but therapeutic process of commemorating the lives and stories of 9/11. Under her leadership VOICES worked with over 1,600 families to create the Living Memorial Project. This online collection of over 80,000 photographs and personal keepsakes, documents the nearly 3,000 lives lost and stories of survivors and is a core component of the In Memoriam exhibit at the 9/11 Memorial & Museum in New York City.
Ms. Fetchet is a strong advocate for the rights of victim's families and survivors, and public policy reforms to make the country safer. As a 9/11 family member, she advocated for an appropriate process for the notification of human remains, the Victim's Compensation Fund and the creation of the 9/11 Memorial at the World Trade Center site. She was also instrumental in campaigning for the 9/11 Commission and the implementation of reforms based on their recommendations. She testified before the 9/11 Commission and the U.S. Congress on five occasions.
More recently, Ms. Fetchet is assisting communities impacted by other tragedies by sharing lessons learned through VOICES' sixteen years of experience. In 2013 she implemented a project, funded by the U.S. Department of Justice, to define best practices in preparing for and responding to acts of mass violence. Interviews were conducted with those who responded to the 9/11 attacks on the Pentagon and New York City, the Oklahoma City bombing and the shootings at Virginia Tech, Northern Illinois University and Tucson, Arizona. The project culminated in the creation of a Resource Kit that is available to communities nationally. Ms. Fetchet also initiated a research project funded by the Robert Wood Johnson Foundation to quantify the needs of victims' families and survivors. In 2014, she launched the Center of Excellence for Community Resilience, an initiative that shares best practices to assist families and communities impacted by other tragedies.
An expert on the long-term needs of victims and survivors, mental health care, preparedness, and national security reforms, she has made hundreds of appearances on national television and at conferences in the U.S. and abroad, and contributes regularly to print and radio.
Ms. Fetchet's work has brought her substantial recognition:
Hall of Fame at Columbia School of Social Work in New York City (2013)
New Canaan Community Foundation Spirit of New Canaan Award (2013)
Social Work Managers Award (2010)
Hometown Heroes on DIRECTTV Hometown Heroes Production (2008)
NBC Nightly News with Brian Williams Making a Difference feature (2006)
"Connecticut's Most Uncommon Women" Award (2006)
Red Cross Award and Rotary Foundation Paul Harris Fellowship (2005)
ABC News Person of the Year (2004)
'Connecticut Hero' award by Senator Joseph Lieberman (2004)
Ms.  Fetchet served on a number of advisory committees, including:
National Child Traumatic Stress Network
9/11 Memorial Museum Family Advisory Committee
Columbia University Mailman School, WTC Evacuation Study
9/11 Family Steering Committee for the 9/11 Commission
Center For National Policy
Leadership in Counter Terrorism Alumni Association (LinCT)
FBI Citizen's Academy Alumni
Psychological First Aid Operations Guide, 1st edition