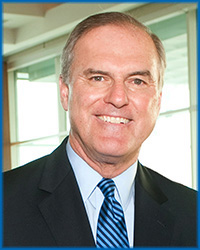 Frank joined the VOICES team in 2005.  In his role as Development Director, he oversees all grants, partnership agreements, corporate and foundation sponsorships and other fundraising strategies.  He works with the Board of Directors on strategic planning.
Frank retired from IBM in June 2005 after a career of nearly 33 years. He held a variety of sales and executive management positions in IBM headquarters in the tri-state area including Global Client Director and Vice President, Alliances in the Computer Services Industry. Following his retirement from IBM, he established Fetchet Consulting LLC which helped firms in their route-to-market and distribution strategies.
Frank resides in New Canaan, CT with Mary, his wife of more than 40 years. He graduated from Youngstown State University and was an IBM Certified Client Director, having participated in the Harvard Executive Program in 2003. Frank and Mary have three sons, Wes, Chris - and Brad, who perished at the age of 24 on 9/11.