Seattle Art Project

In 2001, an art teacher from Duvall, Washington gave her students an assignment: "to create messages of hope, peace and love for the children affected by September 11th." The art was so well received that the following year they created a book out of the artwork, "Messages of Hope, Peace and Love" which Voices of September 11th helped to distribute to family members.
"Our focus has always been to offer love and hope, fostering a support that would help people rebuild their lives. Each year a new project is created: from the launch of the Building Bridges Award, to an artful collection of friendship boxes, to an array of beautiful assorted art pieces. The greatest gift - the one we had not really expected - is the gift of friendship created over the years. As we faithfully created every year, we added to our community newfound friends from the VOICES families, who have generously shared the stories of their loved ones and given us the opportunity to walk with them."
~ Dianne Brudnicki Owner and Teacher, School of Art and Innovation
This was the beginning of a longstanding commitment that Dianne Brudnicki and her students have made to honor the lives lost on 9/11 through their artwork. In 2011 they began what Dianne describes as their "largest project ever," a multi-year project to create a 9/11 Tribute flag for each family that commemorates the lives lost. The artwork on each flag was inspired by the stories told in the VOICES 9/11 Living Memorial Project.
For the 10th Anniversary, 130 students created 158 personalized flags reflecting the unique stories of individuals lost on 9/11. They were displayed and distributed at the Information Forum.
Dianne said that a few years ago, she was asked by a Seattle Times reporter, "When will you stop?" She replied, "There is no time limit when you are helping people to rebuild and recover. We are in it for the long haul."
"Many have wondered about our dedication to this project; we have participated for fiveteen years and we are committed to continuing our artistic journey of hope. Through these years our community has experienced the profound impact of working with the families of VOICES. Ten years later I found the answer to that first terrible day. Hope is in the legacy of those lost. Each had a story, and we will remember them and continue the good work they did when they were with us."
---
"Remember September" Mail Art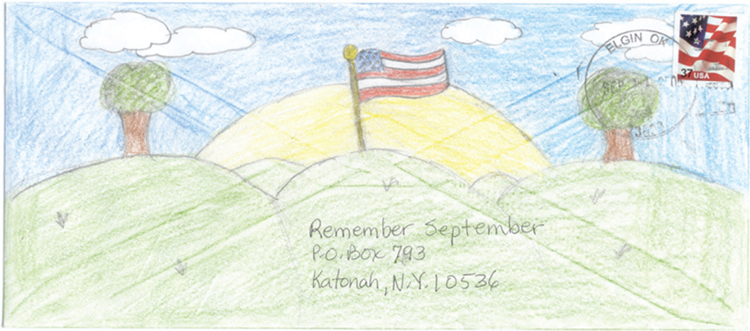 Artist Gail Ellspermann was looking for a meaningful way to remember those lost on 9/11 and to give other artists the opportunity to share their talents in a thoughtful remembrance. With this in mind, she created "Remember September Mail Art, an annual call for Mail Art to honor the victims and heroes of the 9/11/01 attacks on the United States." Gail invited artists to "create an envelope as your personal way to remember the events of the day, those who lost their lives, and those who fearlessly stepped forward to help those in need."
Artists were asked to decorate any size envelope with 9/11 relevant art. They could use any media - paint, collage, fabric, crayon, colored pencil, calligraphy, stamping, stickers, etc. After adding sufficient postage, they would take the envelope to the post office to have it postmarked on September 11th.
This project was embraced by thousands of artists from around the world who year after year contributed their expressions of caring and support. Teachers and students participated in this unique way to teach the story of 9/11 while also providing an outlet for the expression of students' thoughts and feelings.
For the Tenth Anniversary, Gail chose a "new home" for the project, Voices of September 11th. The artwork has been scanned and will be available to be viewed online.
"I feel so good about your organization being the new home for the mail art project! I have known from the start that the project needed a voice beyond what I could give it and I have found that in Voices of September 11th. And, you are such a warm and wonderful group of people! It just all feels like a great fit."
It is easy for anyone to participate in this unique memorial project. On September 11th, decorated envelopes can be sent to a new postal address:
Remember September
c/o Voices of September 11th
Post Office Box 911
New Canaan, Connecticut 06840
"Gone But Not Forgotten" Canvas
---
One of the highlights of VOICES Tenth Anniversary Information Forum and Commemorative Luncheon in New York City was the opportunity for participants to contribute to the Paint By Numbers "Gone But Not Forgotten" canvas. The Paint By Numbers corner of the exhibit space was lively with people showing their artistry while sharing stories of their experiences over the last ten years.
This project was created by Dan Robbins, the inventor of the childhood classic Paint By Numbers. This original painting shows the New York City skyline with the Twin Towers portrayed as ghosted images. Dan saw this as a "unique and meaningful way to reflect on the past, remember those who were lost, and work together to complete a masterpiece that reflects the resiliency of the city."
Some of the participants showed more artistry in their painting than others. All agreed that it was an enjoyable way to pass the time during a very emotional weekend.
"This was definitely a 'feel good' experience. I remember that one family member said that he wanted to paint in purple because that was his mother's favorite color. Quite a few said they wanted to paint trees because they are living things. Some families painted quietly, while others were clearly enjoying the experience."
~ Jeanette Costello, VOICES Volunteer
The painting is now on display at the VOICES New Brunswick office. There are still a few sections to fill in. Members of the 9/11 community are encouraged to come and show off their Paint By Numbers expertise. For those who would prefer to paint in the privacy of their own homes, you can order your own "Gone But Not Forgotten" kit on the Voices of September 11th website.