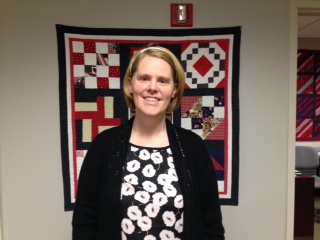 Voices of September 11th is pleased to welcome Carrie Miller as the new program director of the New Brunswick office. Carrie comes to us with an extensive background in social work and case management. Prior to joining VOICES, Carrie worked as a resource case manager at NHS Human Services, helping clients locate community resources for financial assistance and linking them to proper mental and medical health professionals. She was also an in-home therapist and crisis center counselor with Clinical and Support Options. Carrie's areas of expertise are trauma work, specifically post-traumatic stress disorder, and attachment work.
After receiving her bachelor's degree in psychology at Lock Haven University, she completed the clinical social work graduate program at Widener University. Carrie then held several internships at both an inpatient hospital, (working with young children with severe behavioral and emotional needs), and as an outpatient therapist for adults suffering from both mental health problems and substance abuse. 
She is currently working on setting up special tours of the 9/11 Museum for Middlesex county survivors and first responders, as well as continuing to reach out to those who may be eligible for the World Trade Center Health Program. Recently, she organized the seminar on motivational interviewing that took place in our New Jersey office on Tuesday, June 10th.