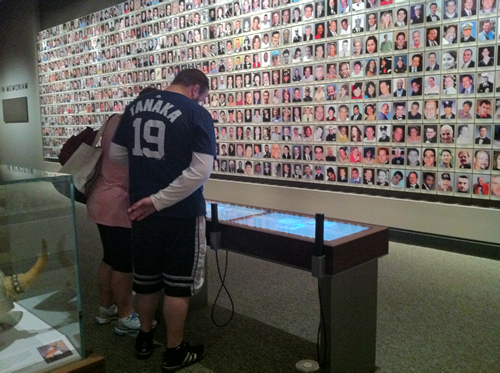 Every face has a story. When I walked into the In Memoriam exhibition at the 9/11 Memorial for the first time, I was surrounded by faces of people whom I had never met - and yet I knew very well. For the past 7 years, their loved ones have told me their stories, showed me their pictures, and introduced me to their families. The tributes that I have helped them to create in the Living Memorial have helped me to see them, as one family member told us, "not as statistics, but as people, because their personalities and the things that make them special come through."
My emotional reaction to the faces in the In Memoriam exhibition was not unique. Many of the visitors had the same stunned expression as mine when they saw the faces of the 2,983 people lost in the 1993 and 2001 attacks. Many were drawn to the interactive tables to see photos and stories about their relatives, friends and co-workers lost on 9/11. I watched them touch the photos, share tearful looks with each other and tell stories about those lost. These intimate moments were repeated over and over again during the five days of the dedication preview period.
Outside the exhibit is the Memorial Hall, which occupies the space between the footprint of the North and South Towers. On the wall, a quote from Virgil commemorates all the lives lost so tragically. It reads, "No day shall erase you from the memory of time." I hope that the visitors to the museum find the memories to be as meaningful to them as they have become to me.