Senator Richard Blumenthal Press Conference
Justice Against Sponsors of Terrorism Act (JASTA)
Tuesday, July 19, 2016
New Haven, CT
Mary Fetchet's Remarks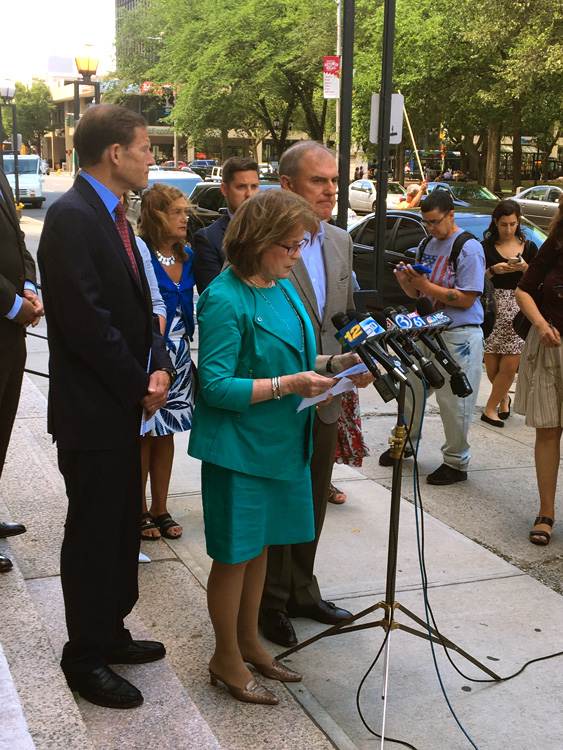 My name is Mary Fetchet, and I am here with my husband Frank. I want to thank Senator Blumenthal for inviting us today to talk about a topic that is near and dear to our hearts.  On 9/11, our 24 year old son Brad died when a commercial airline commandeered by terrorists was flown into the south tower of the World Trade Center in lower Manhattan. Brad was one of the 2,977 innocent citizens that were senselessly killed that day. In response to our loss, I founded Voices of September 11th, using my professional skills as a social worker to create an organization that provides long-term support services for families, responders and survivors, and to assist communities impacted by other traumatic events, many of whom are still suffering the consequences of a traumatic loss. I worked with other families to push for the 9/11 Commission, and I am here today to support Senator Blumenthal's effort to call on the House of Representatives to pass JASTA so that all Americans can feel confident that those who are funding terrorist acts are held accountable.  
As Mother who lost a son on 9/11, I want no stone left uncovered.  I don't want another Mother to suffer the loss I suffered that day at the hands of extremists. We need transparency in our government, so that those who are responsible are held accountable, including the individuals and countries who are funding these acts of terrorism. Acts of terrorism are happening regularly— innocent lives are lost, families are destroyed, communities are damaged. The recruitment of young people to ISIS and other terrorist groups is happening, both here and abroad. I ask, how are these operations funded? Who is supporting the operatives as they plan, recruit and carry out these horrific events? We can capture, kill and investigate the trail of evidence, but I am convinced that unless we hold those accountable for funding terrorism, our communities and countries, both in the U.S. and abroad, will be constantly dealing with the carnage.
In our work at VOICES, each day we support those who are suffering the consequences of losing a loved one on 9/11, and we help communities both here and abroad to recover from similar acts of violence. Often I find there are no words: Our thoughts and prayers are not good enough anymore, and we are faced once again in helping a community deal with the lifelong task of rebuilding their lives.  
This September 11th is the 15th anniversary. I ask Congress, don't let one more anniversary go by without holding those who are responsible accountable. So I call upon our House members to act now and pass JASTA. Don't let the war on terrorism be merely a slogan here in the U.S., while our brave military are risking their lives to protect our democracy. Send a clear message to our friends and foes alike that we will no longer look the other way, or tolerate the clandestine funding of terrorism. 
All Americans must feel confident that our government officials are taking the necessary steps to fulfill your most important obligation, to protect our citizens.