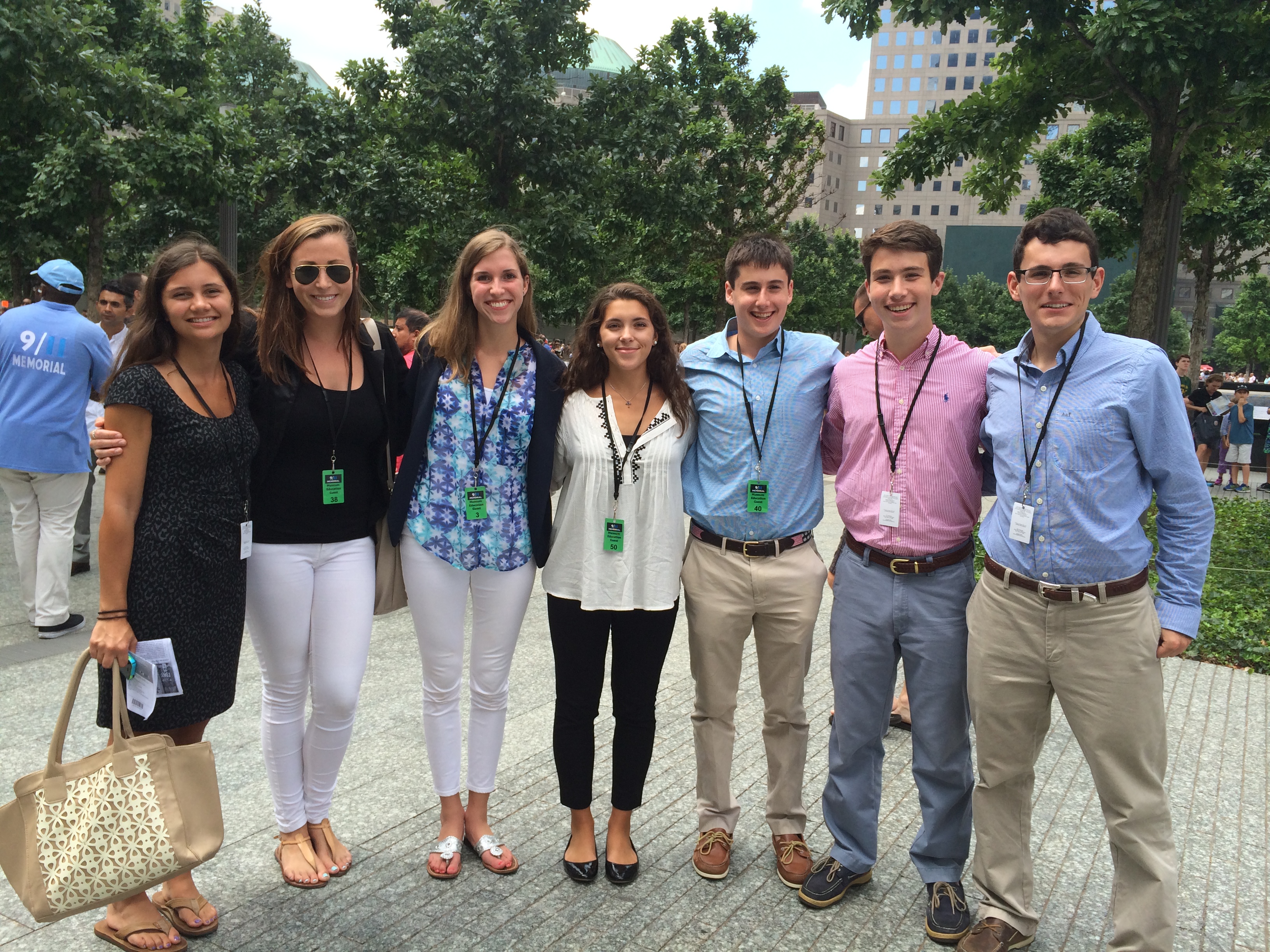 Although today is only Wednesday, this week has already been full of excitement in the lives of our VOICES interns. Monday, we started off our day by heading into the city and getting a firsthand look at the National September 11th Memorial Museum. The day we had been anticipating and looking forward to all summer did not disappoint.
On the surprisingly crisp and windy July morning, we had a chance to walk around the reflection pools and take in the memorial. The sounds of waterfalls and leaves rustling helped to guide us into a tranquil state of mind that would prepare us for what lay ahead.
When we entered the Museum, the experience was both spot on to what we were expecting- beautiful, breathtaking, undeniable emotional-and also, so much more-potent, real, harsh, and exhausting. After three hours of exploring the Museum, our high school interns conducted interviews for their Community Response Project, they taped interviews of several leading women involved in creating and opening the Memorial Museum: Jan Ramirez who is the 'Chief Curator', Amy Weinstein who is the 'Lead Oral Historian', and Liz Blackford who is the Memorial Exhibition Coordinator.
We felt enlightened and inspired by what these women had to say about their personal journeys through life, their experiences on 9/11, and their roles during the creation of the Museum and Memorial. We headed home and slept as if we had a normal work week ahead of us. The next day, the high school interns began the editing process on the Museum interviews and prepared for their next interview.
Wednesdays sometimes get the best of all of us. It's the middle of the week and everybody is tired. But today, the high school interns proved that notion wrong! David Rabin the Secretary/Treasurer of the Greenwich, CT. Memorial and the Vice President and Branch Manager of Webster Bank in Greenwich was interviews by the interns about his role during the development of the Greenwich September 11th Memorial.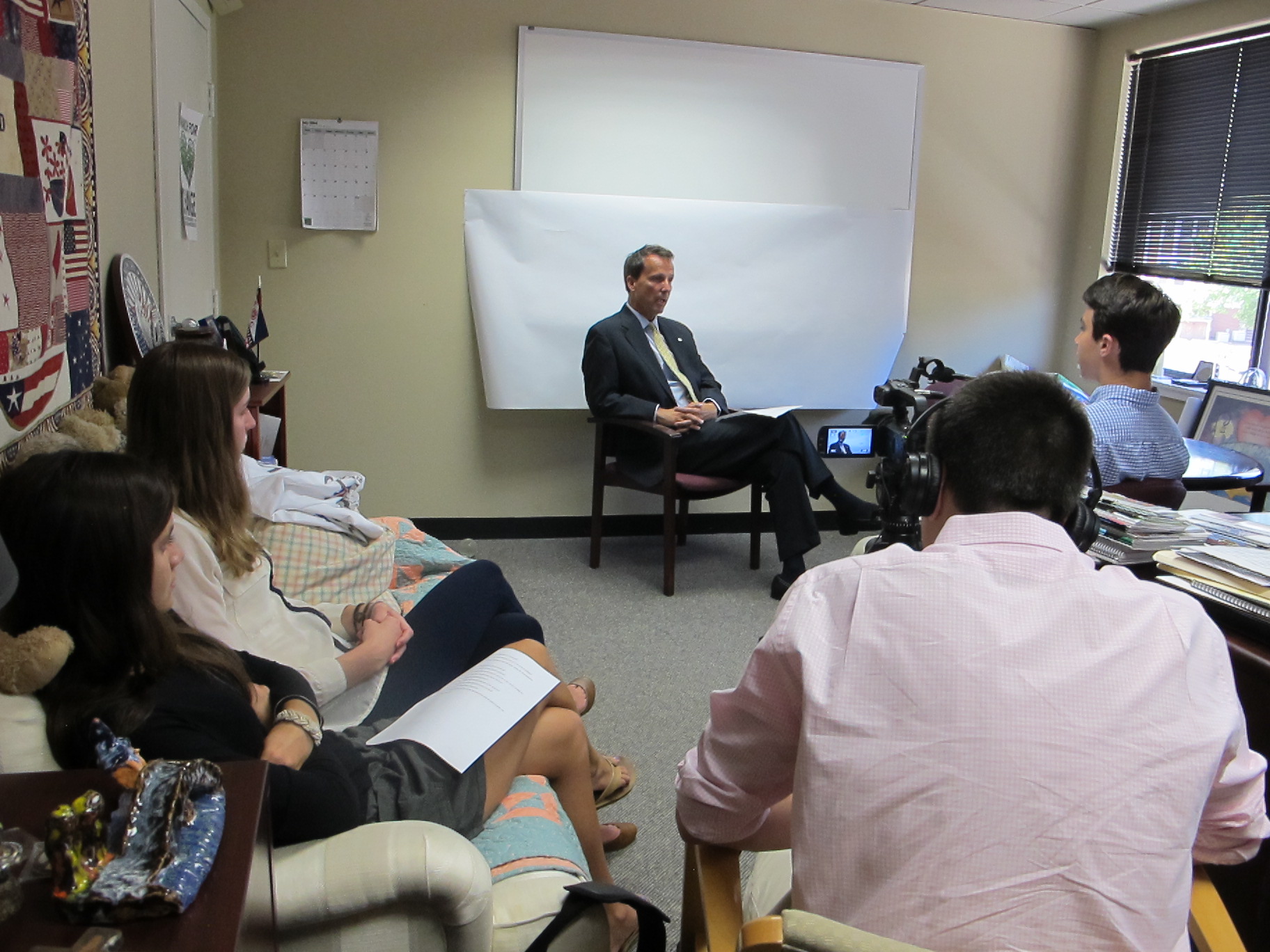 David Rabin spoke movingly of how important it was to the community to create a memorial commemorating the lives of the 32 people with ties to Greenwich who were lost in the 9/11 attacks. The mission of the memorial is to provide a space where family members and friends can have a private place to grieve and think about their loved ones. This space will be accessible year round to visitors and will provide a valuable educational resource for the community's youth who can learn about the meaning and impact of a significant event that has shaped our history forever.
The memorial will be located at the new Cos Cob Park overlooking the water. The design features two clear glass towers clad with an American flag motif with each stripe containing the names of those with ties to Greenwich who lost their lives in the towers.
The entire memorial project is privately funded, to learn more about the memorial and to donate please visit their website: http://sept11memorialgreenwich.org/donate.html
To learn more about the high school interns Community Response Project please visit this link: http://voicesofsept11.org/blog/community-response-project-911-memorials